Robe, Underneath:
This robe is navy in color and wraps/ closes like a kimono or bath robe. The sleeves are also similar to a kimono or more accurately a yukata because the width of the sleeves are not the full width as a traditional kimono. Also like kimono's, the sleeves are partially closed at the end where Miroku can stash his lovely charms or possibly candy to help get close to the lovely ladies *wink, wink*.
Robe, Outer:
This purple robe is basically a single piece that actually wraps around and ties close over the shoulder. You could say it's a greatly oversized apron that wraps around. There is a piece that hooks on the arm, under the navy robe almost like a holster, that connects to the outer purple robe so that it'll look as close as possible to the anime's detail where the purple robe comes out from the main navy robe.
(Images Note: Outfit looks baggy because it's loosely tied on a smaller dressform as opposed to actual customer.)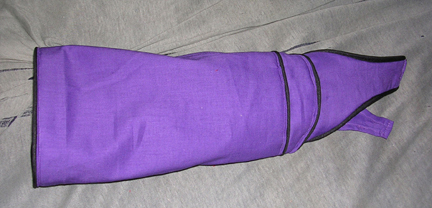 Arm/ Hand "Wrap Bracer"
---
The "wrap bracer" is made of the same fabric as the purple outer robe. It's finished with black piping and will have a gold adjustable ring at the top once it has it's final fitting with the customer. The unedged purple section underneath is attached at it's corner so that it can go over the palm and snap to the other side when the 'bracer' is closed. A clear threaded hoop is added at its tip so that it can be looped around the finger alongside the golden ring.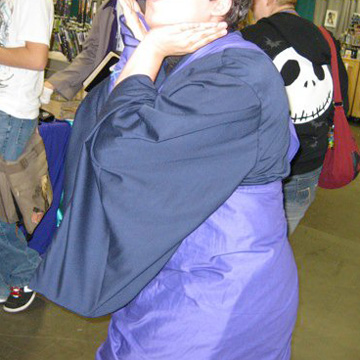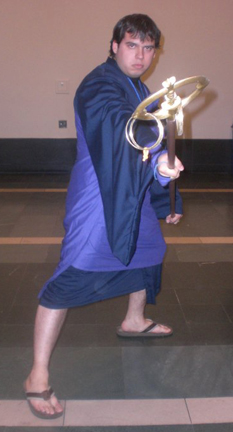 Customer in the Real
---
This is a sample of the customer at the actual convention with the completed staff. You have a nice detail view of the side with the sleeves in the first image. In the second image, you can see how I have the purple robes actually wrap completely around. The customer did have fun using the sleeves as pockets for his phone and such.
"It's great! Everyone has been asking where I got the outfit!"