Who could say no when you're wearing this cute cosplay!


Our first major commission besides work for ourselves and minor help for friends. The dress was made for a wonderful girl that wore it to Anime Boston 2007. It was her first con and she loved cosplaying! She said she had tons of pictures taken.
This cosplay included EVERYTHING. The wig, the shoes (painted, etc), belt (hand-riveted) and pouch, dress with built-instraps and hood, white undershirt (attached scalloped trim), and the necklace and the 3 bracelets.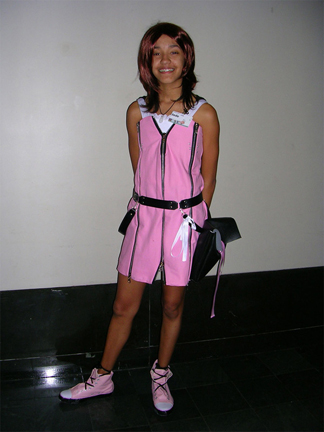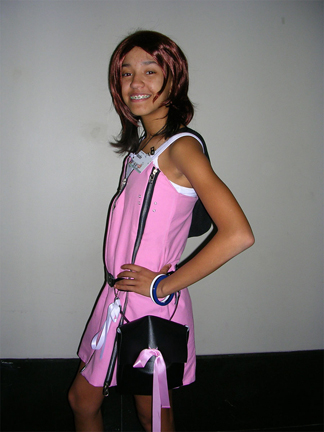 Pink Outfit
---
I used pink denim for durability so that it can be used for cons to come. It took a good while to find large zippers. The ones I found were awesome. Turns out the ones I found are actually used for tents and other larger industrial items. I had so much fun playing with those zippers. I had enclosed the zippers in the back with fabric so anyone could play with them while it was worn and no one had to worry about undoing the outfit. The outfit may seem a little baggy but that is because I had left some room for growth so that she could wear it a good number of times before growing out of the costume.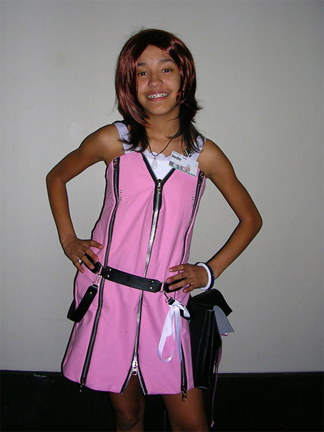 Detail
---
The belt was a nice finish to me. I used rivets to best mimic the belt in pictures. The hooks I found for the straps were a great finishing detail. Kairi has such large zippers but with the ones I used, you can easily see the zipper. The white shoulder straps are actually attached to the pink dress to support it while not having to worry "will it fall down while I walk". With the built-in strapes, the thin straps of the white undershirt are easily hidden underneath.

---
Her matching keyblade was made by GothX,
check it out here
!