Our GothX finally got the chance to make this lovely cerberus replica from Final Fantasy. It was a great project and create a beautiful prop..... just like the Vash replica, GothX really wanted to keep it when he was done.
Our Cerberus replica, is a solid replica that weights close to 3lb. This is a large gun replica. The barrel section is about 19" long. Overall or from end to end, the gun replica it's about 21". The chain at the grip is about 8", not including the charm.
At the end of each barrel, you will see that we added the detail of the smaller, inset barrel rim. We thought this detail added the finishing touches to the replica and knew we just had to add it.
The replica was NOT made with an actual trigger detail so to easily show con security and others that the prop is a non working gun replica. Normally, we try to add the orange tips to our replica guns but because of the barrel details, we did not (these barrels are a bit large for it to work well).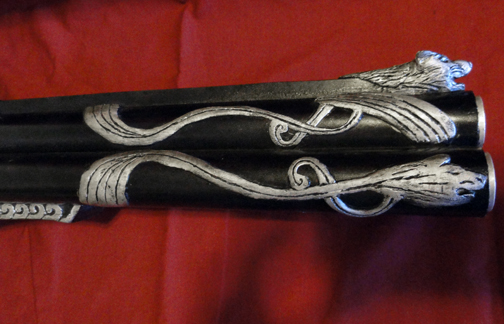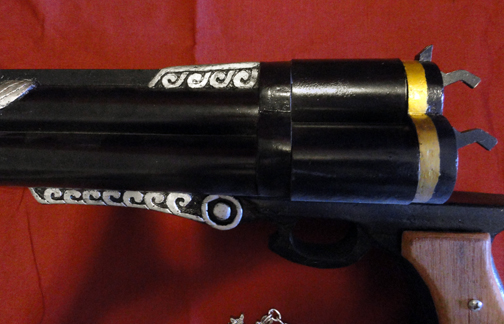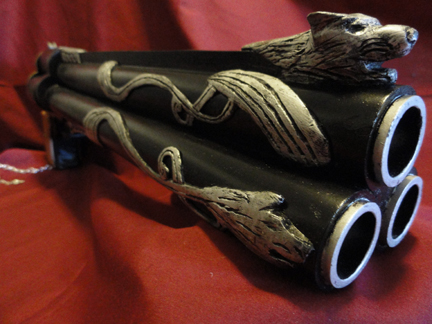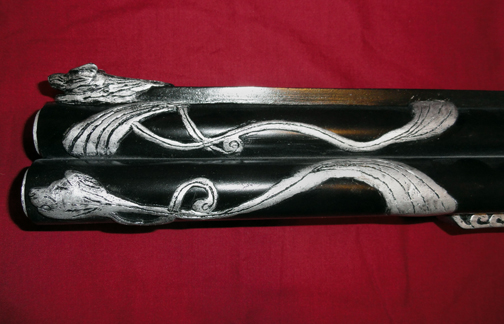 Design Details

---
ALL the scroll work and wolves were the result of adhering epoxy which was then either hand molded or cut out via engraving. The pieces were then painted with a nice silver paint. GothX finished the replica by adding a layer of 'dry brushed' black.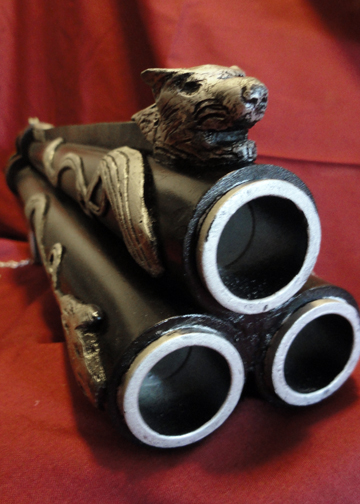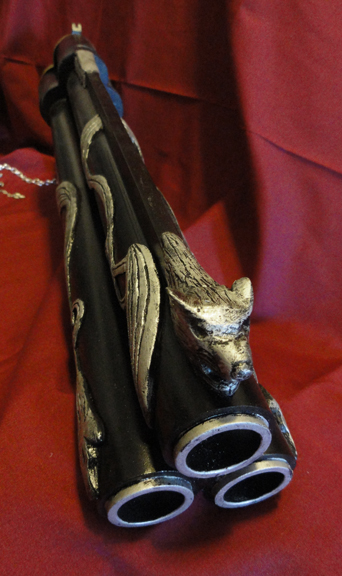 Barrel & Wolf Head Details

---
A better view of the triple barrel end. You can see the lovely detail of the main wolf head at the top. GothX made sure to add the end detail where the barrels' rims are slightly smaller and inset than the rest of the barrel.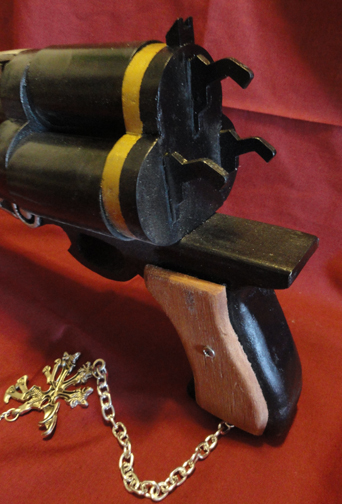 Back End & Grip Details

---
The back barrel hammers are made from sturdy PVC sheeting that was then inserted into cutouts at the back for a secure and lasting attachment.
The handle is finished with actual wood grips. GothX cuts and hand sands pieces of wood and then brushes a light layer of paint for a staining effect to darken the wood to the appropriate coloring.
The 8" chain and the charm are attached via an eye screw underneath.
Satisfied Customer(s)

---
[shipment notification sent with teaser photo] "It looks amazing! I can't wait for it to arrive... [after arrival]... Everything was perfect......Thanks again for the amazing prop! "
-J.H
.