We're just playing a game.... it's called burny, burny, cut, cut 
(yeah that's a "Year One" movie reference)
Product details
---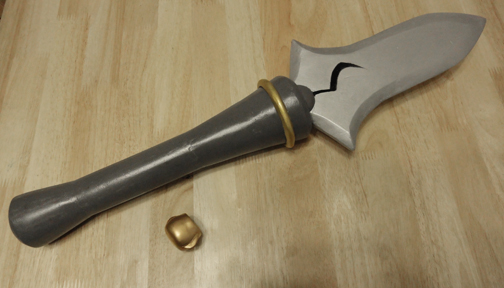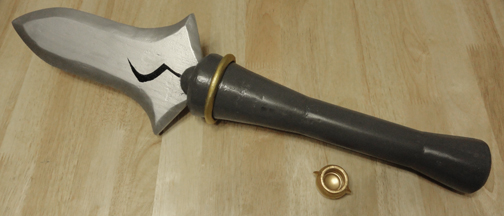 Balsa Staff Blade & Endcap Kit: $XX
Balsa Completed Staff: $XX
---
This kit was made for easy mailing and for minimizing the budget. We can also make a completed version that would come apart near the center for easy transport and mailng.
The over length of the blade and it's base is about 22" where the blade is 10" long and the attached base is 12" long.
The blade is made of wood that was cut to shape and sanded to have the correct edge bevel. The attached base is made using a resin coated form that has a section of PVC piping at it's core. The end of the blade's base is made with a 1/2" connection fitting so that it will snuggly attach to the matching 1/2" PVC piping section for the staff.
The gold endcap is a PVC endcap fitting that epoxy was used on and shaped to the proper form.
TO COMPLETE staff when using the kit: 
Purchase 40" of 1/2" PVC piping from ahardware store (this makes the completed staff about 5ft-2in long)
Brown fusion spray paint to paint the PVC piping
You will need some super glue if you want to permenantly adhere the blade and endcap to the piping
White wrapping for the staff's grip section

(I shipped scraps of the muslin from the belt I made for the tunic for the customer to use; this can be done again if the tunic and belt is ordered alonside the kit)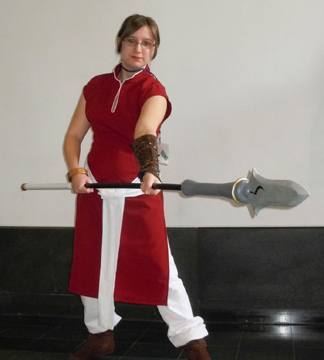 Action Shot
---
You may have seen this Balsa cosplay debuting at Anime Boston 2012. It was well recieved and we were happy she enjoyed her con!